DATA SHEET
BLAST PROOF DOOR TYPE BT2, DOUBLE LEAF
Blast Effects
The door is designed for reflected blast pressure on door surface up to 28 bar (2,8 MPa; 406 psi); blast resistant calculated by FEM Analysis for reflected blast pressure up to 28 bar (406psi).
Pressure-Impulse-Diagram calculated by Fraunhofer Institute for High-Speed Dynamics, Ernst-Mach-Institute, EMI, for different kinds of blast loads and description of the corresponding failure mode, Report I-11/15
Overpressure direction:
The overpressure wave direction is tested direct to the front.
Product Data
Blast resistant door in a high efficient construction of steel and reinforced concrete. The mounting combines surface mounting and in wall mounting; side hinged; swinging type; the door can be operated from inside and outside, manual operation of the door for opening and closing; door thickness: 400 mm, concrete slab thickness: 200 mm with 3 side bolt work and wheel handle – inside and outside; integrated hatch door available
Description of latching
Door is locked with round pins (dia 80 mm) and central bolt work, locking way 50 mm; each leaf is hinged with strong hinges in vault style, which allows door opening 180°, hinge pins are machined and polished from 80 mm diameter steel, rotating in sinter bushing, pins are hardened in a range of 38 to 40 HRC
Blast door operation
Force required to set the door in motion from the 90-degree open position app. 120 N, optional opening from inside and outside by electronic lifting cylinder is available
Door frame
The heavy steel frame is constructed from 400 mm by 400 mm bended angle and prepared with anchoring studs.
Gasket seals are provided as recommended for reinforced concrete doors; the seals are typically used for reinforced concrete doors to improve the weather seal and provide door silencer; sealed doors have full door perimeter and all door penetrations sealed; perimeter seals are rubber gasket type; gaskets are removable, capable of sealing the mating surfaces and resistant to the atmospheric environment; the gaskets cushion the impact of the door against the frame so that steel to steel contact is not made during closing.
Door finish: door painted with primer resisting corrosion
Static material strength: steel plate according;
EN 10025-2/2004,
EN 10029 A/N
EN 10163-2 A/1
AD-2000 W1
quality: S235JR+M
minimum static yield strength 300 N/mm² (Mpa)
maximum static yield strength 412 N/mm² (Mpa)
minimum tensile strength 410 N/mm² (Mpa)
minimum tensile strength 566 N/mm² (Mpa)
elongation at rupture: 27% - 37%
concrete C45/55:
minimum static yield strength 60 N/mm² (Mpa)
break load min.: 1500 kN test acc. DIN EN 12390
Dynamic analysis and deformation Dynamic finite element analysis by calculation software LS-dyna Version 970-3535 maximum deformation in door leaf = 2.1mm (BT2-5060) 100 % function of door (BT2- 5060) after blast with 28 bar.
Technical changes forbidden.
View the complete technical specifications
Login
ADDITIONAL OPTIONS
BLAST PROOF DOOR
a) Only boltwork without any locking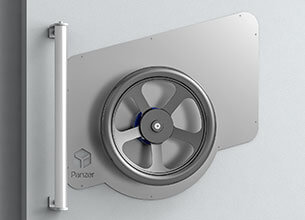 b) Locking from outside by padlock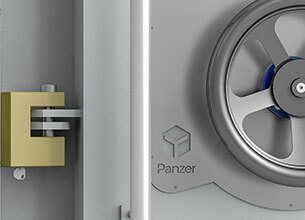 c) Locking with 2 cylinder locks (standard hatch door)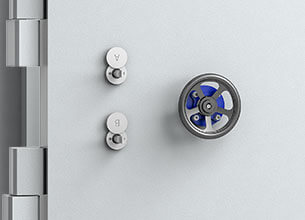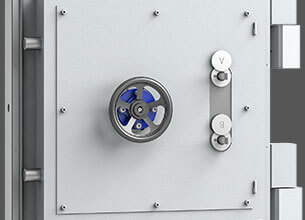 d) Locking with electronic lock, operating from inside and outside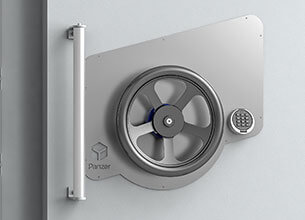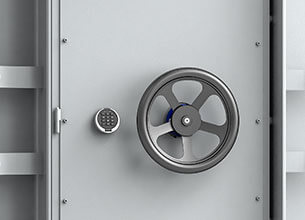 e) Same as d) but additional manual override by 2 cylinder locks with 2 long special keys (standard for width ≥ 900 mm)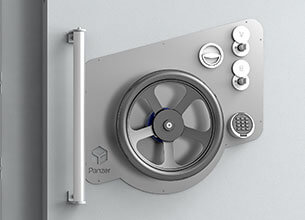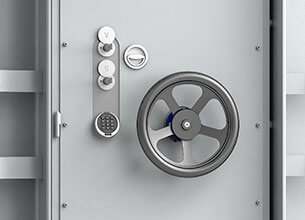 f) One side locking
g) Detachable hinges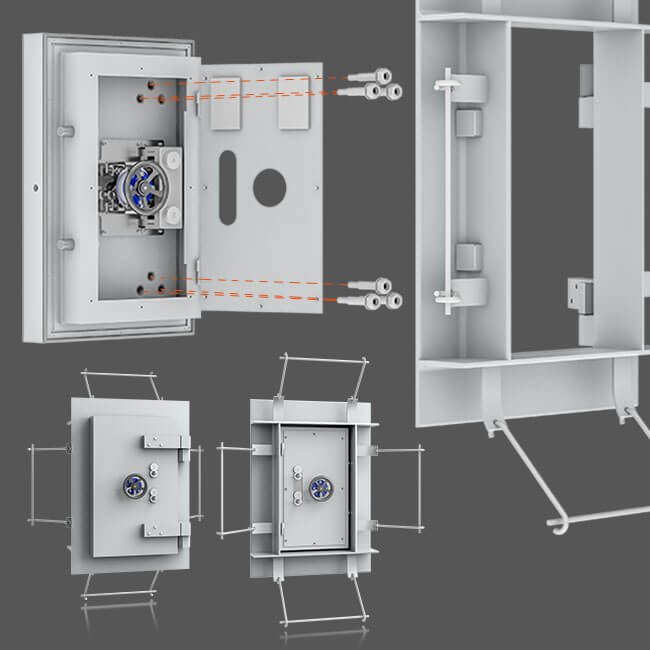 h) Hatch door for main door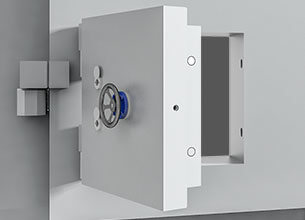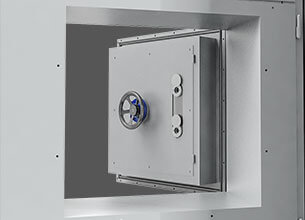 i) Electrical door operation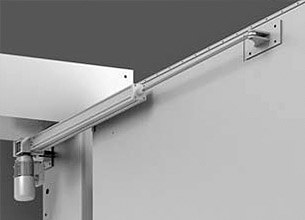 j) Fire security

Standard Sizes
PANZER BLAST PROOF DOOR
Model
art. no.
Outer dimensions*

Clear opening

Weight
with concrete (kg)
Weight
steel only (kg)
Door thickness
(mm)
BT2-4040
BT2-4040
16400
8000
400
BT2-4050
Bt2-4050
19500
9400
400
BT2-4545
BT2-4545
18150
9200
400
BT2-5050
BT2-5050
23500
11150
400
BT2-5055
BT2-5055
25700
11700
400
BT2-5550
BT3-5550
25000
11700
400
BT2-5060
BT2-5060
27900
12360
400
BT2-5555
BT2-5555
29000
14500
400
BT2-5560
BT2-5560
30200
15600
400
BT2-6050
BT2-6050
28400
13250
400
* without protruding elements